Where the Heck is JOHN de LANCIE?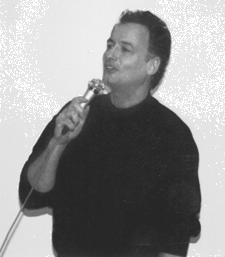 Here is a list of Conventions and Special Appearances and more with John de Lancie.
John is directing Puccini's great classic "Tosca" in Atlanta, Georgia!
The Atlanta Opera closes its 2005-2006 Season with Puccini's masterpiece, TOSCA, on May 18 at 8 p.m., May 20 at 8 p.m., and May 21 at 3 p.m. John de Lancie ("Q" from Star Trek) directs and Edoardo Müller conducts this production fraught with intrigue and emotion equivalent to a modern day thriller.
Check out the details at The Atlanta Opera Company web site: "Atlanta Opera Company"
2 - John helps out on a student film production in Macomb County, Michigan!
"John Cue" filmed in August, 2005
Thank You for Visiting the, Where the Heck is John de Lancie Page?

Send mail to Mary Jensen/Steve



---
ALL RIGHTS RESERVED
COPYRIGHT 2005 By Mary Jensen/Steve Jensen