John de Lancie was raised in Philadelphia. John managed to flunk out of fifth grade. However it was later discovered that he was dyslexic. At 14, John played the part of Henry V in a school play. He was pretty good and his father suggested that John should become an actor. John attended Julliard on a four year scholarship and then joined the American Shakespeare Festival in Stratford. At the summerís end Universal Studios offered John a contract. John acted for two years as a contract player doing 35 television shows, including: Black Beauty, Little Women, The Thornbirds and Captain and Kings. In 1980 John created the character, Eugene Bradford on "Day of Our Lives", a long running soap opera. (This was my first remembrance of John. I turned in each day hoping that John would be on. They made him do outrageous things. He was always good for a laugh.) John and his partner in comedy, Arlene Sorkin won two Peopleís Award for the team. Johnís acceptance speech went like this. He thanked the props, cue cards and the lunch truck. Johnís next role was as the omnipotent "Q" on Star Trek: The Next Generation! (I was thrilled to see John again on TV.) John also reprised his same role for Star Trek: Deep Space Nine and Star Trek: Voyager. John has appeared 9 times in 8 years. His character has become so popular that there are toys, china plates and other collectible items made in his likeness. John as "Q" has won the vote for "Best Villain", "Best Recurring" and "Best Loved" character in Star Trek.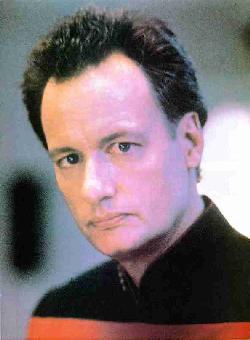 John film roles include: "The Hand That Rock The Cradle", "The Fisher King", "Influence", "The Onion Field", "Taking Care of Business", "Arcade", "Deep Red", "Fearless" and "Multiplicity." John has performed at the Mark Taper Forum, The Seattle Repertory Company and the South Coast Repertory. John has also performed as a concert narrator. He performed with Kurt Masur and the New York Philharmonic, Esa-Pekka Solonen and the LA Philharmonic and the U.S. Army Band. John also is a regular at the Aspen Music Festival, appearing in Fidelio, A Midsummers Nightís Dream and Les Bourgeois Geltilhomme. John is an associate director of the L.A. Theatre Works and producing arm of KCRW/National Public Radio. At which he directed plays as "Fallen Angel", "The Waldorf Conference", "Invasion From Mars", and "When Welles Collide." John has also acted as Cassius in the BBC production of Julius Caesar with Richard Dreyfuss and Stacey Keach. John also co-starred as Jason Bartok in the United Paramount Network series Legend with Richard Dean Anderson. John has also guest starred in Picket Fences, L.A. Law, Murder One, The Gayle OíGrady Project and the voice of Dr. Quest on the Johnny Quest animated series. In 1996 Johnís appearance in Star Trek: Voyager opposite his very good friend, Kate Mulgrew garnished the biggest rating in the history of the series.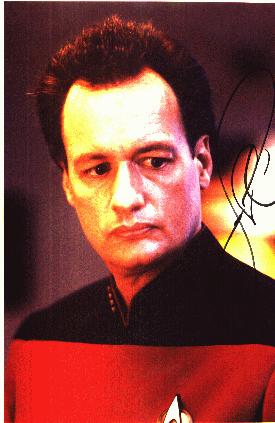 John current project is Alien Voices. John along with Leonard Nimoy of Star Trek fame have created "Alien Voices." They show case their company as the classics of yesteryear meet the voices and sounds of the next millennium. They will be doing the Sci-fi classics such as The Time Machine by H.G. Wells and Journey to the Center of the Earth by Jules Verne and The Lost World by Sir Arthur Conan Doyle, The Invisible Man and The First Men in the Moon. Alien Voices series tells timeless tales anew. They also have produces, "Spock VS Q" And their latest "Spock VS Q The Sequel" on audio cassette and Cds. Check out their newly constructed web site at Alien Voices. Also check out Simon & Schuster's Alien Voice's website. There will be more to come so pick up a copy at your favorite book store.

John has written 2 books "Star Trek I, Q" with Peter David, and "Soldier of Light" with Tom Cool. These are excellent well written book. Pick up a copy today. "I, Q" was a scream, Q at his best. An audio book is also available for Star Trek I, Q read by John and his wife/actress Marnie Mosiman. "Soldier of Light" is a serious look at man's future. A great adventure!